The most heartwarming thank you notes
Source: Ecns.cn | 2022-05-10 | Editor:Ines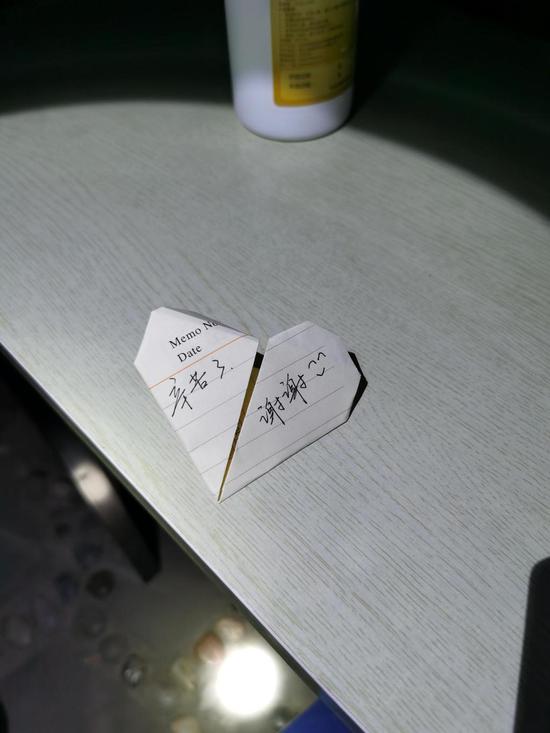 A heart-shaped note with Chinese characters "Thank you for your hard work"  on it. (Photo provided by Park Youngjin)
Special: Battle Against Novel Coronavirus  
Colorful handwritten thank you notes folded in heart shapes with beautiful drawings of a dabai: medics wearing the white hazmat suit are the most heartwarming gifts Dr. Park Youngjin, a Korean national living in Shanghai, has received in recent times. These beautiful notes are residents' way of saying thank you to medical workers and are accompanied by beautiful smiles and words of gratitude.
With the COVID resurgence in Shanghai, the government launched rounds of citywide nucleic acid testing to curb the spread of the virus. In a city with over 25 million people, medics are faced with an arduous task. Health workers across the city have joined in the fight against the pandemic. Dr. Park, who works at the Shanghai Punan Hospital International Medical Center, also joined the group of medics conducting nucleic acid tests.
During the interview with ECNS, Dr. Park looked back on his first day of volunteering and expressed the memories are still very fresh. "I remember it was a scorching hot day, and the community had about50000 residents we had to take swab samples from."
It is impossible to eat or drink as soon as you put on the protective suits. High temperatures and heavy downpours make things even more challenging."The protective suits are not breathable, neither are they completely waterproof, so bad weather conditions make mobility difficult," Dr. Park said. Despite these uncontrollable difficulties, what matters most to him isn't his discomfort but getting the job done.
In communities with a large number of residents, Dr. Park and his colleagues work in the stuffy hazmat suits for10 hours straight. He said, "Two of us make up a group and take about300 samples in one hour. We continue working non-stop to avoid any form of delay."
After a long day of taking samples, they get so exhausted they don't even want to speak, but they got a beautiful surprise on one of those days."One night, a little girl walked up to us with two heart-shaped thank you notes. It was the most heartwarming and rewarding thing." Even though according to pandemic control regulations, they can not take these notes with them, he expressed the memory stays with him.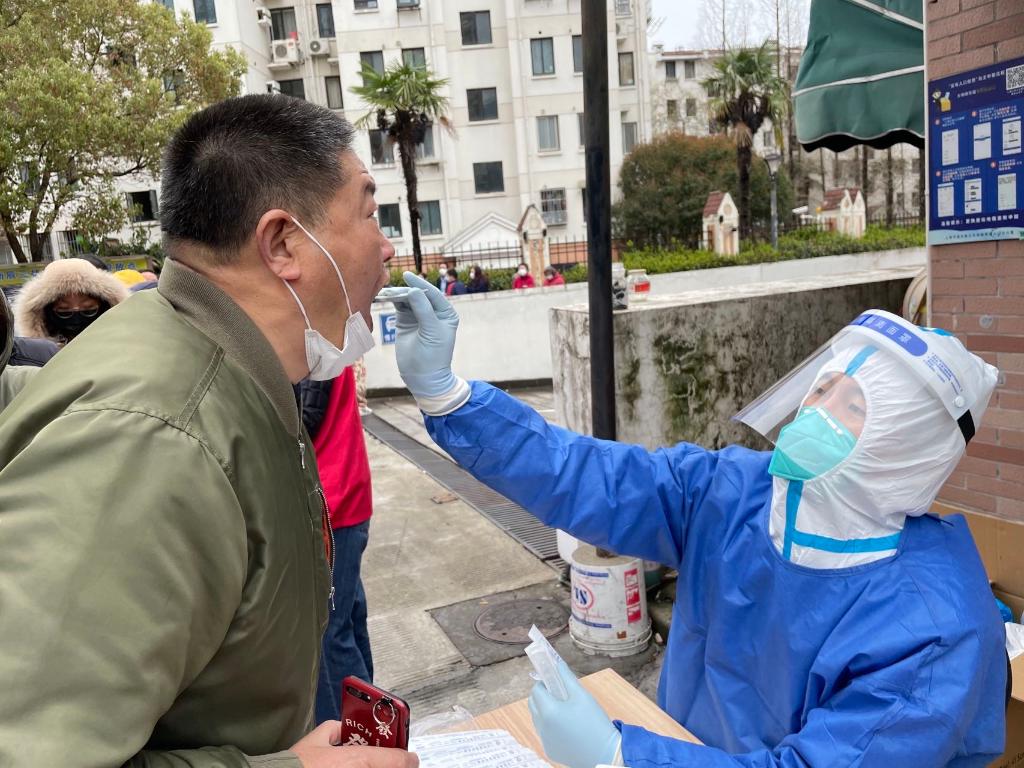 Park Youngjin is working. (Photo provided by Park Youngjin)
Dr. Park received many more notes as he moved from one community to another. After receiving them, he would take pictures, and now his phone is filled with several shapes, styles, and colors of thank you notes. "Although I have received so many notes in different colors and shapes from different communities, something does not change: the warmth I feel and the smile it puts on my face," Dr. Park proudly said.
Dr. Park has lived in Shanghai for11 years. From studying to working and getting married, Shanghai is now just like his second home. It has undoubtedly been exhausting working on ends without enough rest. Still, Dr. Park has not wavered in his commitment to bring back the healthy Shanghai he knew.
"Shanghai is my home and home to so many people from all over the world, so I am happy to do my bit to protect it. Moreover, I am a doctor, so it is my joy to protect people and alleviate their pain," he added.
As the city is shrouded in the gloom of this outbreak, Dr. Park and countless other health care workers and volunteers are working hard to protect Shanghai, "I believe we will win this war, and our Shanghai will be back again!" he said.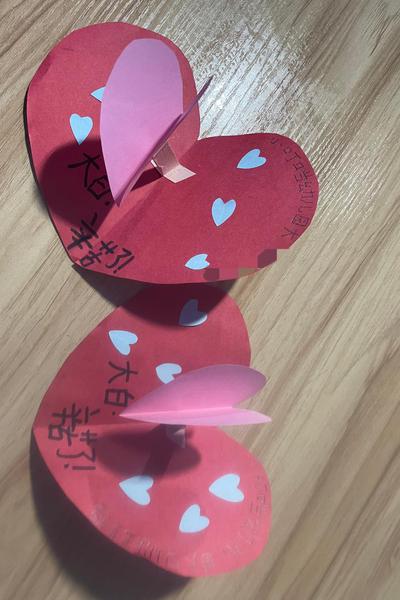 The Thank-you notes to Park Youngjin. (Photo provided by Park Youngjin)